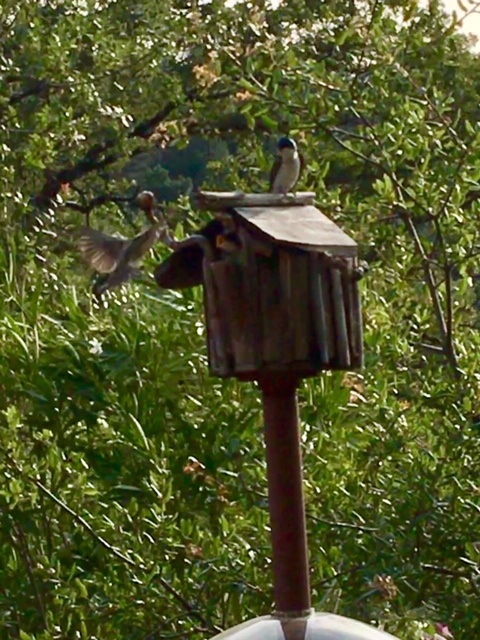 This spring has truly been a treat, especially after all the rains. My plants and trees have unabashedly flaunted their beauty at every turn.  And for the first time in our five years living in Cool, we have successfully had birds nest in our two birdhouses, otherwise known as the Blue Mountain Villas.
In our first two years, the birds did nest, but predators turned the happy event into a sad massacre. A few years back Rick cleaned out the houses and put them on metal poles out in the back. The first spring after we worked on the houses, it was probably just too soon with too much of our human scent remaining on the houses. But this year, we had a sell-out, with both of the villas reserved for the spring, one with bluebirds and the other with swallows.
Having never really experienced living with birds in this way, I found myself falling madly in love with these little families. Once I could hear the chirping and knew for certain that little creatures did in fact reside in our bird houses, it became a love affair. I spent a good deal of time each day watching out for the houses and their inhabitants, studying the parents in their endless efforts to feed their babies and warding off any predators, which many times included me. My constant vigilance caused them some discomfort, but in time they came to trust that I was not a threat. Toward the end, they would allow me to sit only yards away and enter the nest to feed their babies, what a gift.
For a few weeks, the parents would come and go with food, and all you could hear was chirping. But in the last week or ten days, the baby birds would actually show their faces in the hole of the bird house, waiting for their parents to bring their food. You could see their beaks open wide as the parent flew to the house to feed them. (If you look closely, you can see this in the post picture.)
But my favorite by far, was watching the baby bird in the opening waiting for the food, sometimes for five or ten minutes. I fell in love with that cute little face peaking out the hole and sometimes getting brave enough to venture even an inch more, taking in their surroundings, gaining the courage to one day fly the coup.
That day came a few days ago. And I have to say, I feel so sad that I can't stand on my deck to see that little face anymore. I wished so much that I had a camera that could capture the face from my deck like my binoculars could, but I didn't. I will next year. But for this year, I will have to rely on my memory to remember those sweet little eyes.
This experience has lifted me and also saddened me temporarily. And it has taught me first hand the definition behind "empty nesters syndrome," and where the term probably originated.
We have the capacity to connect with an infinite number of God's creatures on this planet, such a blessing. We must always know that our days are numbered, and enjoy each one to the fullest, whether we are lovin' a bird, a neighbor, a friend, a child, a parent, a spouse or significant other.
Here's to my little swallows wherever they may be.