Lessons of a Wayward Yogini
An exploration of life's struggles and the search of simple wisdom—acceptance, hope, and above all, faith in ourselves.

Sue Ferrera will steal your heart as you venture with her through some of her more challenging moments... the death of her mother, coming to terms with aging, career changes, health issues, healing, loving, and learning. Infused with humor and a fight-back spirit, Sue's story encourages confidence in ourselves as well as the gentle spirit that lifts and guides us.

Get a signed copy of the book! If you would like a specific dedication, please send me a message on my contact page with instructions.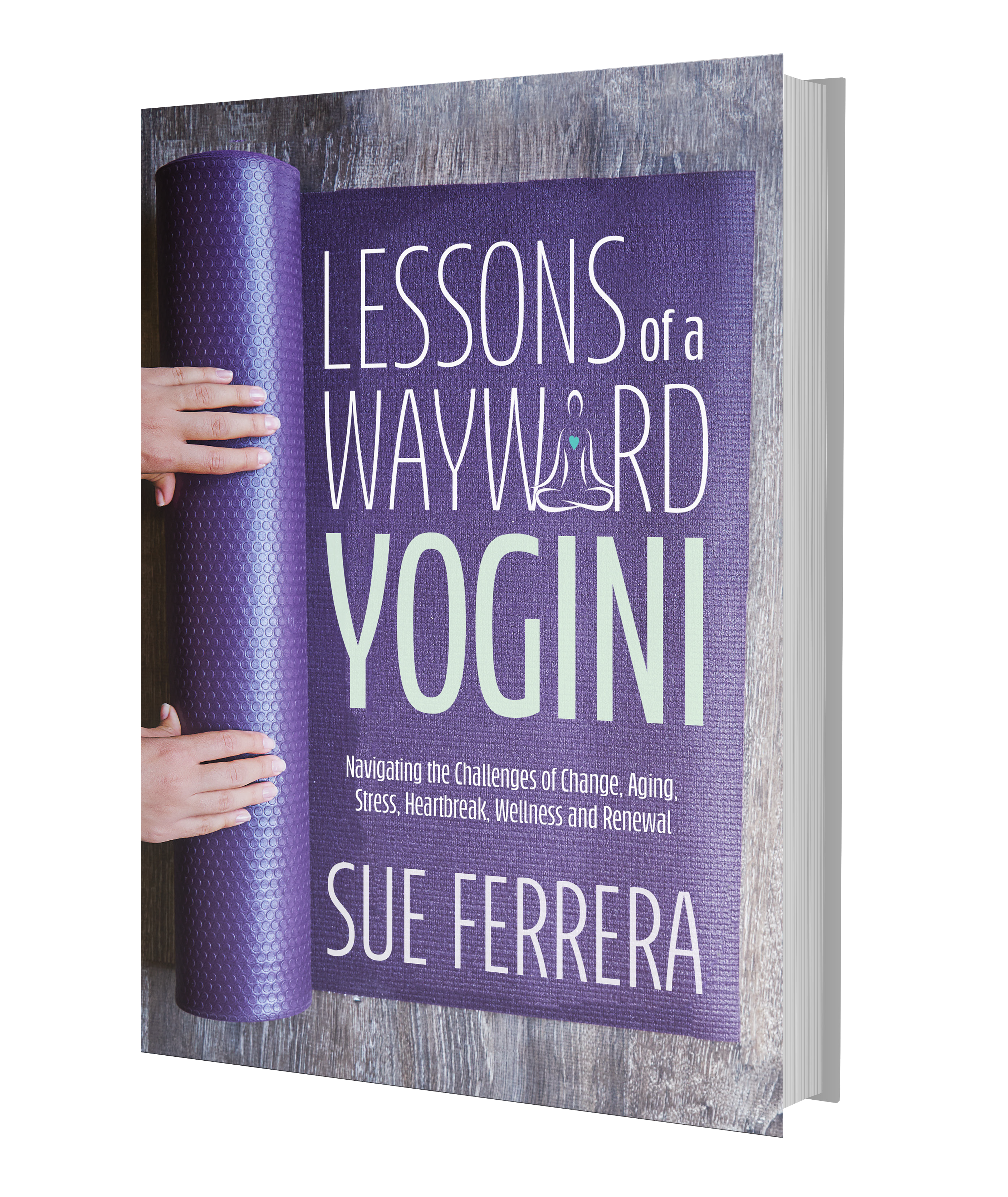 Sign up for my newsletter!
"Every now and then we see our thoughts, feelings and emotions reflected in the pages of a book, validating that we're not alone in this journey called life. Sue's book is one of those moments. As you read, you'll find answers to questions you didn't know you had. The beauty is they'll be your answers, not hers, and that makes this read all the more worthwhile."
Author, "Fast Lane, Wrong Direction: Insider Secrets to Redesign Your Success"
"The insights that Sue shares in Lessons of a Wayward Yogini provide fresh and truthful outlooks, inspiring us to lighten up, pick ourselves off the floor, and smell the roses—red, yellow, white and, especially, purple."
"Sue Ferrera's Lessons of a Wayward Yogini is a coming-of-age memoir for the baby boomer generation. She gives an honest look at the journeys we all face as we move through different stages of our life and reflect upon where we have been, and where we are going."
"Sue candidly shares her personal, often intimate, and sometimes difficult life experiences. Her writing flows and is absolutely engaging. While addressing a variety of relatable subjects, she is introspective and inspires us with her ultimate optimism."
"Loved the book. It was written in a beautiful way. Thanks for reminding me that I can miss the person but not the drama."
"My dear friend Sue Ferrera wrote her first book. I read it in one day. If you are struggling or have struggled with caring for a sick or dying parent this book may be for you. You will understand you are not alone and your feelings of frustration, anger and guilt are all normal. If you are having a hard time understanding your aging body, concerns around being prepared for retirement and fighting age discrimination in the work place this book may be for you. It is for sale on Amazon and Sue's website. I guarantee you will laugh, cry and feel better about yourself when you finish this book."
"I just finished this wonderful book written by a very close childhood friend. It was so beautifully written. It's written with love, challenges, inspiration and hope. I've been enjoying her life blogs for quite a few years and now equally loved this book. You can find it on Amazon. I will definitely share with a friend. Linda I'll bring it to you tomorrow. Thank you Sue Ferrera for sharing your life and insight with us."