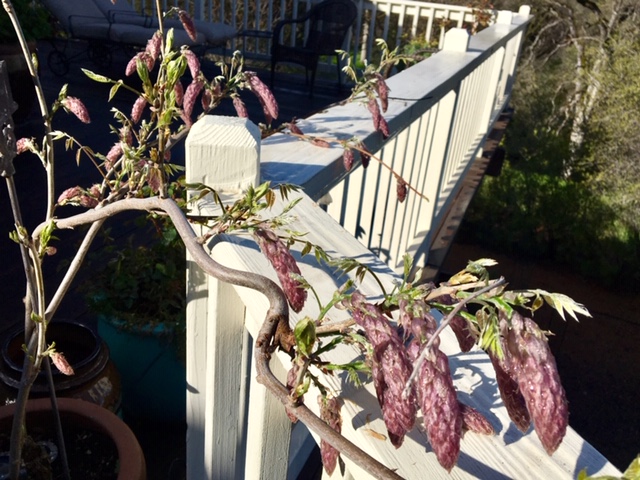 I've been giving spring a lot of thought the last few weeks, since my book, "Lessons of a Wayward Yogini" is scheduled to be released this spring. My editor, Dennis, www.5editorial.com gave me grief about not putting quotes around the title of my book in a recent post, so he will be thrilled that I've corrected this. And I might make major points since I'm also sharing his link. Even though I'm paying him as my editor/publisher, I'm trying everything in my power to encourage him to send along some of his BBQ. He seems to be a jack of all trades, or in this case, a Dennis of all trades, and I've heard he makes a pretty mean BBQ.
Back to spring… is there anything better than a bud on your plants as they awaken ever so slowly in early spring? I can't help myself, I run out to my yard almost every day when the plants are filled with their tiny buds just to peak at them and marvel at their new growth that will in short order be something of delicate beauty. Against all odds, winters filled with freezing temperatures and snow at times, their tiny shoots nevertheless find their way from their dormant state to once again greet a new dawn, a new season.
I feel like a kid at Christmas, those buds are like presents wrapped under the tree. There is such a feeling of anticipation in the air, as well as such a sweet fragrance. It lifts me inches off the ground as I walk through my garden, if only in my mind. The scent definitely encourages a deep yogini breath, and brings a smile to my face and a contentment deep in my soul.
Spring to me, is the promise of rejuvenation, of another season, a second chance (or in some cases a third chance if we are speaking about the deer eating the plants in my yard for two seasons in a row, until we developed deer fencing 4.0.) And even the word spring, its synonyms are leap, jump, bound and vault… obviously a time of year with great potential for advancing all that needs advancing or healing.
I think we humans are no different, we need a new beginning every year or so, to rise up and bloom again. Our earth offers all that we need by way of nature and our fellow humans. It's up to us to embrace the energy and support that surrounds us on any given day. Without that connection, it can be somewhat easy to feel alone, even when we are anything but.
I'm dedicating this post to a few of my friends who are a bit under the weather. If you have to be ill, I can't think of a better time of the year to do it.
Here's to spring… Namaste