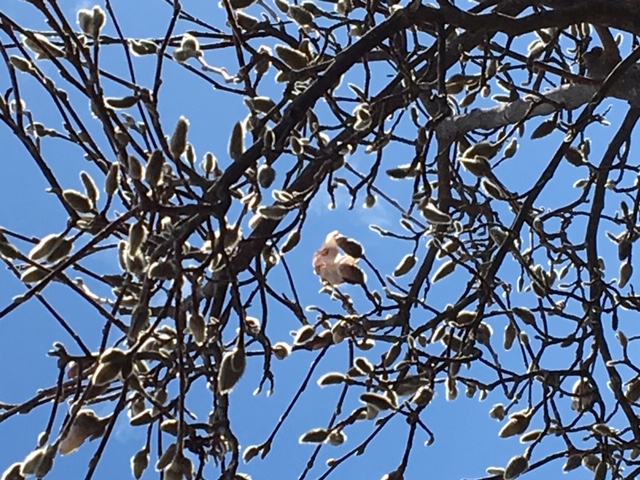 Some believe that our loved ones who have left this earth communicate with us through our dreams. I've had a few dreams about my mom since her passing, most of them somewhat disturbing. But last night, I had an amazing dream about her. There was such a lovely connection between us… an honoring of what we had created together, a knowing that whatever we might have left undone, would wait for another time and place. In the dream I was attending a gathering of women, and I had been asked to give a talk, and although the reason had to do with my upcoming book, the topic I was going to discuss was my mother. I had prepared such nice things to say about my mom.
But she disappeared toward the end of the dream before I could give my speech, and as hard as I searched, she was nowhere to be found. I felt no despair though, instead an understanding that out of sight was only pertinent to this lifetime. From what I can recall, we spoke more through our eyes than our words. And our union was clear and strong and there was no room for blame or sorrow. Instead all that I felt was a strength and a calmness.
And although I've been a bit emotional all day, I'll take it because my dream left me feeling optimistic and safe.
I'm heading into what I anticipate will be a somewhat difficult period finishing my book and getting it published. I've said it before, and it bears repeating. To reach a long sought-after goal is exciting, but at the same time a little daunting. In my dreams, the book is a friggin' bestseller, it's all good. There is something very safe about living in your dreams.
But the reality is that publishing a book is without doubt baring your soft underbelly for all the world to see, especially when you've written about yourself and not some murder mystery or summer romance (although I'm sure the same feelings apply, it's your creation on the line.) And there will be people who don't like the book, and a few friends who aren't really all that interested in the book, and that all needs to be okay. But who am I kidding if I try to tell myself that I will be completely fine with that. I won't … at first. I will need to learn to leave any negativity in my wake, which I'm pretty sure will be a lesson I learn in baby steps.
With our goal of releasing the book this spring, February has arrived to wreak havoc with my sleep. I wake up most nights now at about 3:30 a.m. with all of the what if's and what still needs to be done racing through my mind. (No amount of melatonin is going to quiet this storm.) Last night was no exception. I tossed and turned and made mental lists until about 5:00 a.m. And it was when I finally fell back to sleep that my mom arrived, I have no doubt, to remind me of her confidence in me.
I may have already told you this story, but when I was in fourth grade, I peed my pants in class. Oh, my, way too old to do that. But in my defense, my teacher was very strict and I was afraid of her. I waited much too long to get up to ask her to go to the bathroom. Standing at her desk, asking permission (which of course she so easily granted… really?) it was too late. I stood frozen peeing right next to her desk (served her right for being so unapproachable.)
Perception is an interesting thing, many times what we believe about someone is not accurate. Turns out The Bitch was actually very nice to me in my time of need. She told me to go straight to the bathroom. She cleaned up the floor as quickly as possible (at least in my mind, because of course I was already out the door.) And she met me in the bathroom and told me to go on home as it was almost lunchtime. I so clearly remember running home crying all the way. And my mom surely gave me the nurturance and pep talk I so desperately needed, but at the end of lunch, I was going back to the playground, no ifs, ands or buts about it. She armed me with her words, and sent me off crying all the way back to school. But by God, everything she suggested I do, worked. There was no real aftermath after the Great Pee of 4th Grade, thanks to my mom and the teacher who turned out not to be a bitch after all.
I am beyond grateful for my mom teaching me to walk into the storm, hold my head up high, know my strength, honor my truth and leave any negativity on the path behind me as I dance toward the light.
And I am beyond grateful for her reminder last night, which I will tuck in my back pocket to take along on this journey of a lifetime, the publishing of my very first book.
Yesterday I saw the first blossom on my magnolia tree out front. Even though the storms are lining up on the horizon for the next few weeks, spring is following right behind them. Here's to the sweet smell of spring combined God willing with the sweet smell of success.
Namaste