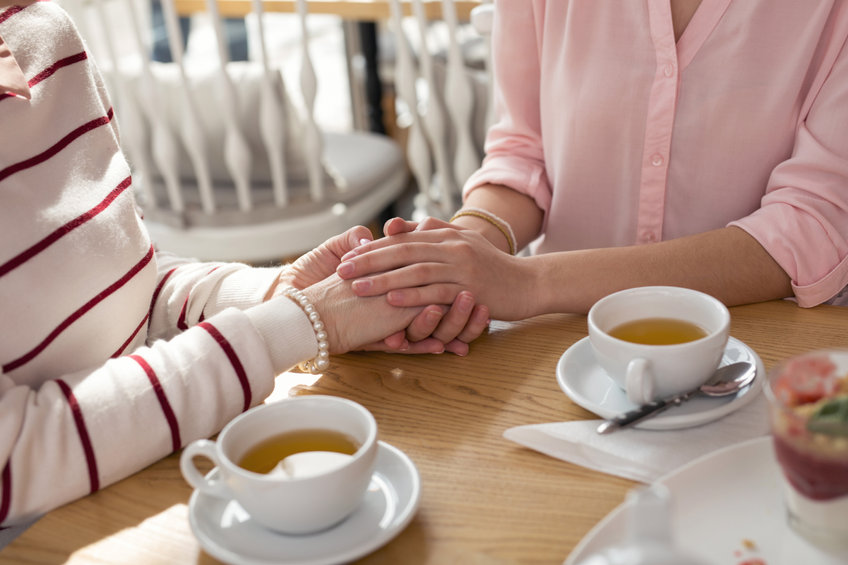 When I hired my editor, Dennis, I honestly had no clue about the mechanics of writing a book. He was recommended to me by my writing coach, Renessa. And before working with Renessa, I attended one writing course in college. I never gave writing a thought, honestly, until one day about 20 years ago when my ex-husband's Aunt Trude asked me if I would help her write about her Holocaust memories.
To this day, I'm not even sure what prompted her to ask me, except I was a court reporter. I'm thinking she thought that since I worked with transcribing spoken words onto the page, I would be a good choice for assisting her.
Trude had remained silent for many years, never sharing her experiences during the Holocaust, but had begun to feel the need to speak her truth. She was asking me for help. Wow! I was honored and hoped I was up to the task.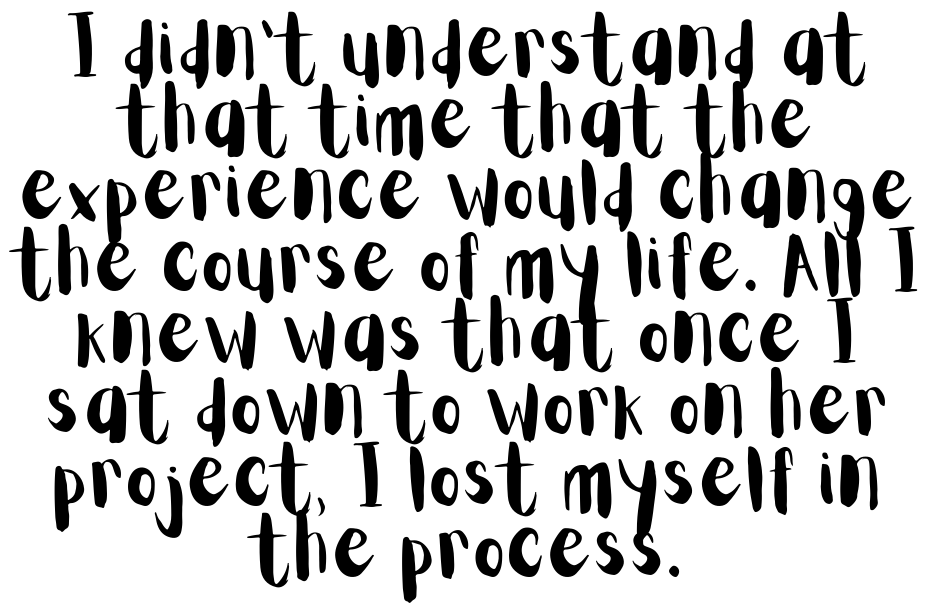 I have to laugh at myself thinking back; I treated the assignment like I was a Sixty Minutes reporter (must have been the latent writer inside acting so silly.) We scheduled our first meeting to begin the process. I arrived with pen and paper in hand (cell phones and iPad just making their way at this point.)
We talked for hours, meeting numerous times. I took a few notes, but for the most part, I just listened to Trude reminisce about her life, often fighting back tears taking in the horror of what I was listening to. She shared with me her memories, along with photos and paperwork she still had, a sleeve cut from the clothing she wore at the camp, drawings her husband had made, photos from passports, all reminders of a horrific time. Having been a seamstress and quilter for many years, holding in my hands the actual fabric Trude had worn through such heinous times sent a shiver through me.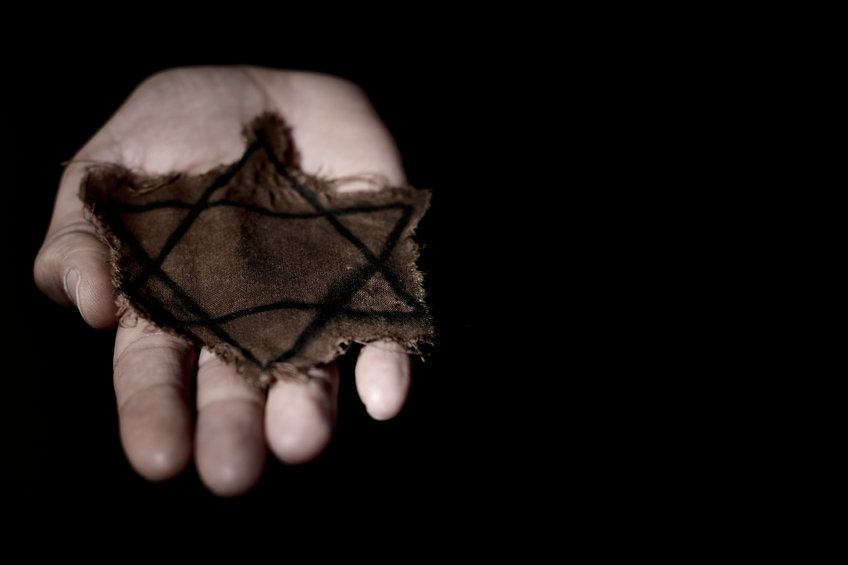 After numerous meetings, for the most part, she completed sharing with me the gist of her story, and I began working on drafting her memoir of sorts. Each day after finishing my family duties, I would race to my computer and immerse myself in writing. I didn't understand at that time that the experience would change the course of my life. All I knew was that once I sat down to work on her project, I lost myself in the process.
For those few hours, I became a writer, doing my best to transfer the thoughts and feelings Trude had shared with me onto the page in a way that honored her story.
I don't remember now how long I worked on the project, but it took some time. It became a labor of love. When I finally delivered the finished product to Trude, she was pleased with it. She requested a few changes and added additional facts. When it was completed, she shared the story with many people, and from what I understand, she enjoyed after so many years, speaking her truth.
I relinquished what I would consider my first important literary work in exchange for a thirst to continue making my way back to the keyboard, a great trade. I had begun by telling Trude's story, but I would move on in time, sharing my own memories. It would just take me a few years to catch up with myself.
And here I stand at the precipice of publishing my first BOOK!
I want to add a critical postscript to this post.
At 22, I became engaged to Ron. His Aunt Trude and Uncle Hermann took exception to our marriage, declaring that they wouldn't attend our wedding. I was not Jewish. I agreed to study Judaism in the year prior to the wedding. And in the end, they not only attended our wedding, but Hermann enjoyed taking pictures at the ceremony.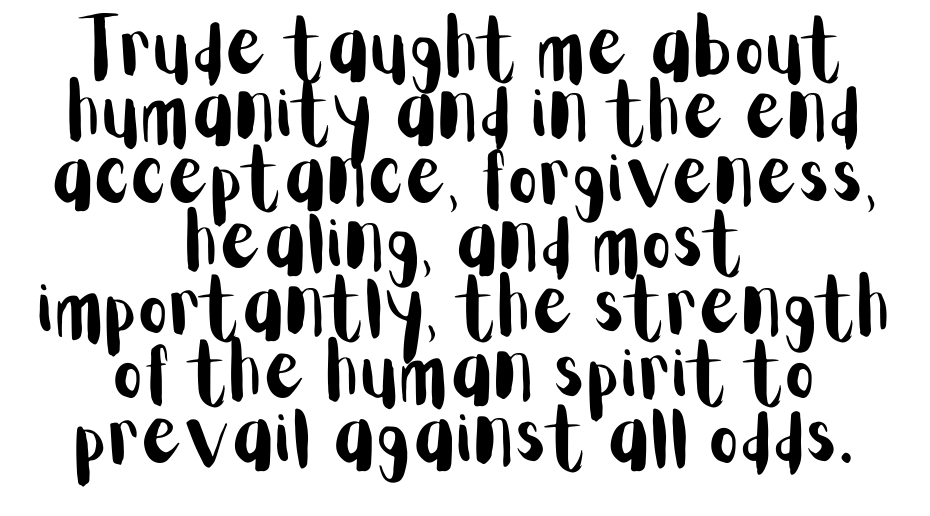 Trude asking me so many years later to help her tell her story is what the world is so desperately seeking in current times. We all want to be understood and accepted and, most importantly, healed from past aggressions or transgressions. We want to heal each other, get each other, and move forward. And we are all capable of that. What I've come to understand, though, is that the journey can take a lifetime.
For Trude and me, it did take years. But what we left each other with was worth the wait. Yes, she originally rejected me out of hand, but what she gave back to me was more than I ever bargained for. Trude taught me about humanity and in the end acceptance, forgiveness, healing, and the strength of the human spirit to prevail against all odds. I'll never forget the lessons.
And in my minor studies with Trude, I learned that I needed to pursue writing. I will ever be grateful to Trude for sharing her healing with me, which in turn opened doors that enriched my life more than I will ever be able to communicate with mere words.
Thank you Truchen.