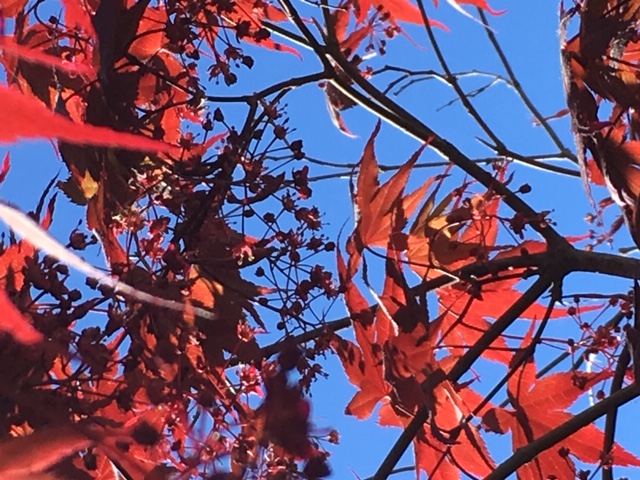 Having spent many years working in the landscaping business I have done a fair amount of thinking about the lessons I can learn from nature. Guidance is ever present just waiting for me to take notice, thank goodness she is patient with me. Most times I am moving at lightning speed not stopping long enough to pay close attention. And when I do, damn, I have to vow to myself to do it more often. This weekend I put aside everything but my garden. I spent both days playing in the dirt and enjoying spring in our tiny oasis. Treasures were everywhere, just waiting for my attention. Spring is an amazing time, reminding me of what is also awakening in my body after the long winter.
I came across a thought that I wanted to share. With my new book coming, "Lessons of a Wayward Yogini," (I know, I have to plug it) I seem to be hyper sensitive to lessons these days.
In the first few months of moving to Cool four and a half years ago, one of my landscaping clients had a red maple tree in her yard that was not thriving. I had put it in a few years earlier, and no matter how much I coaxed that tree or how many fertilizers I applied, it just was not happy. I told my client I would swap it out and put another tree in its place. When we dug the tree out, I brought it to my new home. It was worth trying to save.
This weekend as I stood beneath the same tree only a few years later, I admired its beauty and marveled at the growth. It is at least twice the size, if not three times. The tiny maple blossoms fluttered as the wind rustled through the tender spring leaves, putting on an incredible show. I took time to watch and study her dance.
I spent the remainder of the day thinking about the basic premise of this tree living in an environment that was not nourishing it, for whatever reasons. The tree simply was failing to survive, a slow progression, but one that in the end would have ended in the tree's demise. These few years later in an environment that was providing what it needed, it had become a strong tree. And if she was a woman, I would just have to say she knows the power of her beauty and she flaunts it every time the breeze blows.
Across the garden a bit later in the day, I was still wondering, how different are we humans, really? If we spend too much time in an environment that isn't nourishing our soul, we too begin to fade.
This maple tree serves as a reminder that with the proper nutrients and sunlight, enough water, and some tender loving care, it is possible to change and reverse a negative course.
I believe humans are no different.  It's hard though to make major changes in our lives if we find we are not happy in a relationship or in our careers.  And with that said, it's important to note that the tree went into major shock. You can't dig up a plant and shove the root ball into a garbage bag, without the tree looking pretty grim for some time. Same could be said of humans. Any major life altering changes definitely put our systems into shock. But we too have the same recuperative powers as nature, maybe even more so. After the transplant, so to speak, our mind and body become strong again, and if we have moved on to a life that has the requirements we need, we then have the power to one day sway in the breeze as beautifully as my little maple tree.
Some might say the hardest part is knowing what will make you happy in life. I disagree. I think the hardest part is facing what isn't making you happy and moving away from it, and accepting that for a while we will feel like we have dug up our roots and shoved them into a garbage bag. Life is nothing if not about our choices.